Highlights from Silicon Valley
12.07.2018
At the end of June we had the opportunity to take the direct Finnair flight to San Francisco for a week in Silicon Valley. My wife and I rented a small studio in Palo Alto via Airbnb and had the flat as our home base for visits in the region. The purpose of the trip was both business and pleasure, as the campus visits were part of the plan as well as meetings with clear objectives for some of the startups in our portfolio.
Apple Park
A true highlight of the trip was the Apple Park visit at One Infinite Loop in Cupertino on Friday 27th June. What we experienced was a real showcase of Art and Design. Apple's iconic designer Jony Ive has always been my idol. Design is not just about the user friendly products; it's the immaculate finish of manufacture and the magical user experience including the Apple stores. I actually bought the photo book of product design at Apple campus: Designed by Apple in California, one to enjoy while glancing through photographs and sketches of the most iconic products like the first iPhone. The iPhone is the one device that changed the way we communicate, create and live. While designing the iPhone many existing technologies were utilised, however, Apple was the company that patented the multitouch technology and gave us the magical user experience of a smartphone now loved by many of us. And Joy, our contact person was a perfect example of the friendly Apple people with true passion for the products. Pitched the idea and need for iOS development for one of our portfolio companies and Apple's business expert followed-up on this in the following week. And now I'm reading Jony's book once again.
"Different and new is relatively easy.
Doing something that's genuinely better is very hard." —Jony Ive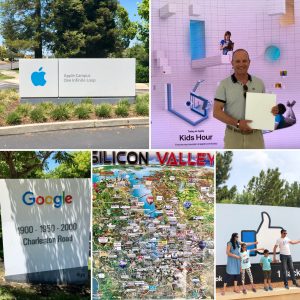 On a general note the Silicon Valley tour and campus spotting was well worth the time spent. We also visited the Facebook campus at Menlo Park and Google at Mountain View, as well as Tesla in Palo Alto.
San Francisco
During the weekend we visited San Francisco on a guided tour by Toni Perämäki, an old friend and COO of Valohai, a machine learning and AI startup from Finland. We had good discussions regarding the business opportunities and culture in Silicon Valley. California is clearly a place for creative people and for me it's not at all like the other places in the US I've visited over the years. People have different values, the atmosphere is quite international and there is a clear trend for healthy food and lifestyle. The day included a trip over the Golden Gate bridge to Sausalito, a charming seaside town.
The weekend was complete with a tour of the Stanford University campus, amazing in terms of architecture and knowledge. A day of pondering and walking around this beautiful campus where "the wind of freedom blows". I wish I could return here some day to finish off my PhD.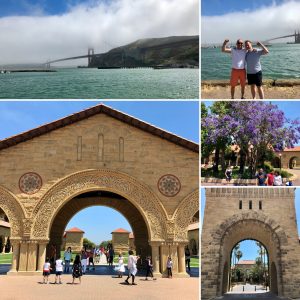 Networking and new ideas
Networking, new ideas and connections are among the most valuable takeaways of this trip. The first few days of July included a visit at the Nordic Innovation House in Palo Alto, where I met with Hartti Suomela and Tan Thuong, Senior Advisors at Business Finland. They are helping Finnish and Nordic companies to get started in Silicon Valley and our discussions focused on healthy food trends, retail and how to find the right local partners. I'm very glad that they agreed to have Plantui Smart Garden samples at the showroom. This has already been set up by the kind initiative of Katja Kotala, Community Manager at the Nordic Innovation House. As a next step we're actively looking for a local distribution partner for Plantui in CA.
A friend and former colleague Niklas Kiviluoto introduced me to Jon Snydal, who is the Design Director at the Cogniance design studio in San Francisco. Cogniance is design led technology consultancy: "We build impactful futures through design-led technology". They have 500+ team members including 50 designers at their offices in Kiev, Ukraine and Poland, as well as a design studio in Munich. Among the topics discussed were holistic digital in-car experience, car dealership experience and driving aids for self-learning vehicles. As a small token of gratitude Jon also received the newly launched Haikara Watch designed by Harri Koskinen, which he seemed to appreciate. Here are a number of opportunities from a service design point of view including app development.
Last but not least – cars & music go together: like the hit song from my exchange student days in the 80's "Drive" by The Cars and "Racing in the streets" by Bruce Springsteen. In CA there's a Tesla on every corner including lots of new Model 3s. Let's just hope Tesla can pick up its production and deliveries so we can soon have Model 3's in Finland too.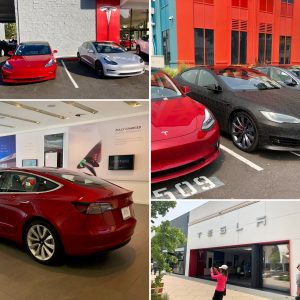 Hope you enjoyed this short travel blog, written at the cottage in the archipelago in SW Finland. Best summer wishes to everyone!
Timo