Plantui sales grow in Europe and Southeast Asia – new equity investments support growth
15.12.2016
---
Plantui Press release, publishable on Thursday 15.12.2016 at 6 A.M.
 The smart garden manufacturer Plantui has expanded into new markets in Europe and Asia, with sales operations already in 18 countries. Sales in Europe have been boosted by a retail agreement with the luxury department store Harrods. During the year, Plantui has raised more than one million euros in equity investments. With the funding, Plantui is aiming for strong growth in the Southeast Asian market.
The Finnish smart garden startup Plantui Oy successfully closed its newest funding round. In 2016, Plantui has raised more than one million euros in funding, with a third of it coming from private investors in Asia.
The company is aiming for strong growth in Southeast Asia, having established Plantui Asia LLP in December. A new sales hub will also be opened in Singapore at the beginning of 2017 to meet local demand more efficiently. An online shop, which was launched in November, is already actively serving the Singapore market.
"In Asia, the market for smart and indoor gardens is at a completely different level than in Finland, because many people lack the space to grow plants outdoors. Our device also saves significant amounts of water compared to traditional gardening, and Plantui grown plants contain up to five times more vitamins than plants grown using traditional methods. Indoor gardening is a fast-growing trend, and Plantui is one of the first players in the market," says Karri Andersson, CEO of Plantui.
In Asia, Plantui's growth strategy involves strengthening local marketing and sales efforts, thereby raising awareness about the brand. A partner in Plantui Asia LLP, John Cheah, a Singapore-based investor with extensive experience in gardening, feels that the Asian market has enormous potential.
"Plantui combines two aspects of international interest: food tech and Finnish design. People value Finnish design particularly in Asia. As food technology develops, vegetables will increasingly be grown where they are eaten. Plantui makes that possible in an ecological and chemical-free way," Cheah says.
Plantui is also actively expanding its business in Europe. This autumn, the London high-end department store Harrods became a Plantui retailer and has been selling smart gardens since November. Harrods, which is particularly popular among Asian consumers, has been an important avenue for raising awareness about the Plantui brand before the busy Christmas season, and the collaboration has aroused interest in Plantui in other markets as well.
Plantui was established in 2012, and its smart gardens are currently sold in 18 countries. Sales have grown strongly during 2016 and the company is expected to double its turnover in 2017.
For more information, please contact:
Mr Karri Andersson
CEO, Plantui Oy
Mobile +358 50 3718 882, karri.andersson@plantui.com
Plantui is a Design & Food Tech company that focuses on the growth process in hydroponic indoor gardening. We believe that everyone deserves a garden.
---
Aboa Advest has been working with Plantui since 2015 with its Go2Market strategy and assisting in finding investors to boost the growth of the company. John Cheah has become a close friend and partner for the Plantui team. He is now working hard with his local partners to implement these plans:
"On 1st January 2016, The ASEAN Economic Community ("AEC") comprising of the 10 South East Asian countries, kicked in. During the 49th ASEAN Foreign Minster's Meeting in Vientiane, a Joint Communique was issued on 24.7.2016 on "Turning Vision into Reality for a dynamic ASEAN Community" which reaffirms AEC and set a timeline for full economic integration.
ASEAN has a total population of 629 million with USD2.4 trillion ASEAN economy in 2015. With one of the objectives being "a single market and production base",  the adoption of ASEAN Economic Blueprint 2025 will guide ASEAN's economic integration from now to 2025.
During one of Timo Ketonen's visit to Asia in 2015, the idea of a Plantui based in Asia was mooted which include a distribution hub to achieve competitive costs & faster delivery to Plantui's clients in Asia.
With the AEC now in place and working towards full economic integration by 2025, Plantui sees that now is the time for Plantui to embark on tapping the tremendous opportunities ASEAN has to offer and riding on ASEAN market opportunities, also the opportunities in the wider Asian countries,.
As a first step towards the objective of expansion into AEC and in tandem, into wider Asia, our Singapore partners: John Cheah & Tony Seah registered a company: Plantui Asia LLP to focus primarily on the following:
to seek & appoint distributors in AEC who are like-minded and passionate about Plantui;
to examine the possibility of a Singapore Hub or even a hub in any of ASEAN member countries, which can best achieve the connectability of deliveries, economies of scale and more. A lot of time and effort will be put in place to comprehensively examine the potential before the concept of a Singapore (or in any ASEAN member country) Hub can be realised."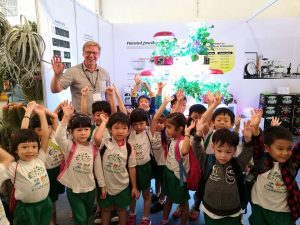 Plantui CTO Kari Vuorinen with Singapore's future leaders in world conservation
For more information please contact:
John Cheah
Smart Garden Nerd
Plantui Smart Garden LLP
johncheah@plantuismartgarden.com
Phone: +65 9639 3083