Plantui möjliggör superfood i varje hem
06.09.2019
Plantui Oy pressmeddelande 6.9.2019 (på engelska)
Finnish Design and FoodTech company Plantui launches new products in order to meet the rising global demand for healthy superfoods. Product launches strengthen Plantui's position as the leading Smart Indoor Gardening company.
Finnish forerunner of indoor gardening Plantui developed new and innovative product family to meet the global megatrends of health and urbanization. New Plantui MICROGREENS products are aimed especially for people with a healthy lifestyle and interest in superfoods.
– We are very happy to bring superfoods closer to everyone.Plantui MICROGREENS is a great addition to our existing product portfolio and will meet the demand generated by the megatrend of healthy lifestyle, CEO Piia Maaranen says.
With delicious taste and high concentration of nutrients microgreens are great addition to healthy diet and lifestyle. Studies show that microgreens can contain up to 40 times more essential nutrients compared to full grown greens and vegetables.
– MICROGREENS all have higher concentration of vitamins, antioxidants and minerals compared to matured versions of them. They are a true superfood with unique features from exceptional nutritional values to fast growth of just 7–14 day from seed to harvest, says Plantui's Biotech Trainee Iiris Kuusisto.
New products are launched at the IFA Fair in Berlin during 6–11thSeptember. Launch phase introduces the all-in-one Plantui Smart MICROGREEN package, a MICROGREENS Tray for existing owners of Plantui 6 Smart Garden and five MICROGREENS Seeds for growing nutritious and delicious microgreens.
 Moomin Gardens bring joy of growth to kids and families
At IFA Berlin Plantui also launches the redesigned Moomin Garden. Moomin Garden developed in co-operation with Moomin Characters is the educational Smart Garden aimed for children and families.
– We want to educate and bring joyful experiences to greenthumbs and playful minds of all ages. Moomin Gardens are a great way of teaching kids about plants and healthy eating, Maaranen says.
New Moomin Gardens have all the smart features of Plantui 3e Smart Garden with a beautiful Moomin design. Moomin Garden package includes three packs of plant capsules for tasty adventures and Moomin Storybook to learn about gardening with the help of Little My and other Moomins.
For further information, please contact:
Piia Maaranen, CEO, Plantui Oy
+358 40 515 1321
piia@plantui.com
Plantui is a Finnish Design & FoodTech company specializing in the development and manufacturing of smart hydroponic indoor gardens. Plantui products make it easy for everyone to grow fresh, delicious, clean and healthy salads and herbs anywhere, anytime – green thumb or not. All Plantui products are designed and partly manufactured in Finland.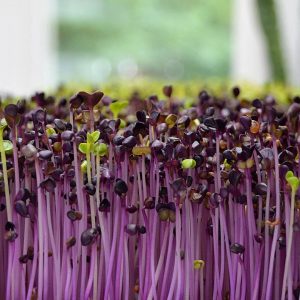 For the microgreens video please refer to www.plantui.com and the IFA Press Kit