Plantui grows across the globe – everyone deserves a garden
25.11.2016
Plantui's Vision
Plantui is a Design & Food Tech company with focus on the growth process in hydroponic indoor gardening.

We believe that in the future greens will be grown near where they are consumed, at home and your local restaurants.

Plantui combines cutting edge plant science, light spectrum intelligence & high technology packaged as a beautifully designed consumer product. The Plantui concept is based on a scalable business model where consumers buy a Plantui Smart Garden product combined with recurring purchases of Plantui Plant Capsules and accessories. The growth method has been patented (IPR). 
Key trends driving the growth of indoor gardening:
Urbanization: In 2015 more than 4 billion people are living in cities, 54% of the whole population.
Cooking & local food: Growing interest in cooking and in the use of herbs and salads.
Wellbeing & health: People are more aware of their health and what they eat.
Plantui™ Smart Garden gives you the joy of growing fresh greens, a world of plants to choose from and a very cool way to light your home. We believe everyone deserves a garden.
Plantui Smart Garden combined with a selection of plant capsules guarantees the best customer experience for growing your own greens at home. Pure, fresh, healthy and tasty greens without soil and pesticides.
Plantui sales growth – now available in 20 countries
Plantui will accelerate its growth during 2016-2017 through the introduction of new Smart Garden platforms and tailored services to drive plant capsule sales, e.g. experimental kits for those who enjoy a wide selection of herbs. In the autumn of 2016 we launched or new light block, for those who love to grow chili and other tall plants.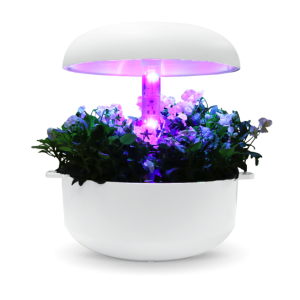 We launched our first Smart Garden in 2014 and expanded into new countries including Denmark, Holland, Japan and Singapore during 2015. As for now Plantui Smart Garden is for sale in 15 countries in Europe and Asia. In november 2016 the famous department store Harrods in Lodnon launched Plantui Smart Gardens and plant capsules.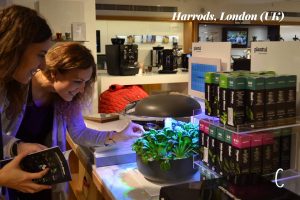 During 2015 we set up our new website for consumers with a database of plant information and the Plantui online shop at Plantui.com. Plantui is also available in many online shops in Europe and Asia.
In 2016 we launched our smaller Plantui 3 at a lower price point and the Moomin Garden, an educational product for children and their parents to enjoy the miracle of growth combined with storytelling in co-operation with Moomin Characters. In November 2016 Plantui started its co-operation with Moomin International Kindergarten in Tokyo. Plantui is also co-operating with many Finnish kindergartens and primary schools introducing children to the miracle of growth.
The rapidly growing Food Tech segment has attracted a lot if interest among investors. Plantui's key target is to build a profitable business globally toghether with its distribution and retail partners.
Partnership
Plantui's CTO Kari Vuorinen contacted Timo Ketonen in the summer of 2013. Timo has worked with Plantui since 2013 through the service design agency PALMU, focusing on Customer Insight and the customer profiles, defining the design drivers for the website and the online shop. Timo's further tasks have included redefining the Business Strategy of Plantui and its product roadmap together with Plantui's core team and the Board. Timo is a shareholder in the company since May, 2014 and currently Chairman of the Board. During 2017 we have refined our Go2Market and sales strategy together with Plantui's new CEO Karri Andersson and the Board.