Letter of intent with an international partner: Plantui to make breakthrough thank to indoor gardening boom
21.03.2018
Media release
For release on 21 March 2018 at 7.00 a.m.
Plantui Oy continued to grow strongly last year. This year, the company has signed a letter of intent and started a joint R&D project with a global business partner. The project results will be launched at the IFA trade fair in Berlin on 31 August. Plantui aims to become an international market leader in smart gardens by 2020. The company has also further strengthened the expertise of its board of directors by appointing a new board member, the digital business expert Ville Hurnonen.
Plantui, a company specialising in the development and manufacturing of smart gardens, is growing strongly. In 2017, its turnover was approximately EUR 562,000, a 27% increase on 2016. The Plantui smart garden plant capsules and accessories account for approximately 30% of the company's sales. Launched in 2014, more than 15,000 Plantui smart gardens have been sold to date. Exports make up for approximately 80% of the company's sales.
This year, Plantui aims to at least double its turnover. The company's outlook is very positive, having signed a letter of intent with a major global business partner in February.
"Our long-term efforts to build the Plantui brand and invest in high-quality research and development are yielding positive results. Based on this letter of intent, we have also started a joint R&D project with a global partner. The results of the project will be launched at the IFA trade fair in Berlin in August. Our goal is to continue generating top-line growth and developing new, high-quality Plantui products," says Plantui CEO René Österman.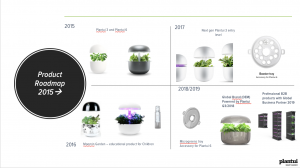 Plantui has a network of retailers in 22 European and Asian countries. In addition to Plantui's own recently updated online shop, Plantui products are sold on more than 15 international shopping sites. In 2018, the new partnership agreement will expand the retail network significantly. The agreement will be published later in the spring.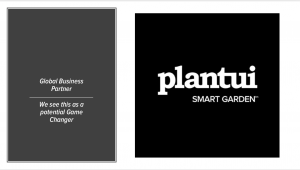 The global rise in indoor gardening supports Plantui's success: in 2025, the home farming market, including vertical farming, is estimated to be worth approximately USD 10 billion.

Digital business expert joins board
All members of the current board of directors will continue in their positions. To strengthen the team, Plantui's general meeting appointed Ville Hurnonen a new member of the board. With his extensive expertise in digital business and service design, Hurnonen will make a valuable contribution, particularly to the development of Plantui's digital service processes.
"Plantui's products respond to numerous global megatrends, such as environmental awareness and urbanisation, which will lead to denser living. Indoor gardening combines smart technologies, nutritional values, eco-friendliness and cleanness. With my experience, I can support digital service design at Plantui," Hurnonen says.
All three other members, Harri Yrjö-Koskinen, Riia Sandström and Myron Tay, will continue serving on the board. The board is chaired by Timo Ketonen.
"The first five years have been quite a roller coaster for Plantui, like for many start-ups. We will continue to make consistent progress on the international market in accordance with the new strategy we prepared in 2017. Having found a major global partner, we are confident about making a breakthrough," says Timo Ketonen, chairman of the board and experienced angel investor.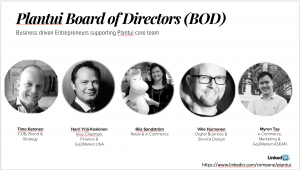 For further information, please contact:
René Österman, CEO, Plantui Oy, tel. +358 500 506 636, rene.osterman@plantui.com
Timo Ketonen, Chairman of the Board, Plantui Oy, tel. +358 400 831 205, timo.ketonen@plantui.com
Ville Hurnonen, Board Member, Plantui Oy, tel. +358 50 433 5944, ville.hurnonen@gmail.com
Plantui is a Finnish company specialising in the development and manufacturing of smart hydroponic gardens. Plantui products make it easy for everyone to grow fresh, delicious, clean and healthy salads and herbs anywhere, anytime – green thumb or not. All Plantui products are designed and partly manufactured in Finland. The Plantui platform won the Red Dot Design Award in 2015. www.plantui.com