Inspirational Butterfly Feeder enlivens your garden and supports butterflies
07.09.2016
Belightful Butterfly Feeder brings nature closer to our everyday lives by attracting butterflies, and this way enhancing the wellbeing of both people and butterflies. Belightful Butterfly Feeder combines form and function into unique design and user experience providing innovative decorative element for any outside space.
Belightful Design is a design company specializing in wildlife feeder products and ecological design. Founded in Finland by two friends, Belightful Design seeks to bring happiness and positivity to outside spaces with 'belightfully' designed products. The first product of Belightful portfolio is a Butterfly Feeder, which can be placed outdoors to attract butterflies with its' nectar, resulting in opportunity of embracing the the delight of butterflies. "We want to offer people an easy and visual way to experience something beautiful and support the nature at the same time", says Miia Liesegang, CEO of Belightful Design and the Designer of Belightful Butterfly Feeder. There is a variety of different butterfly feeders on the international markets. "Our Belightful Butterfly Feeder differentiates with its' design; it is designed for butterflies only with its' enclosed nectar source." Liesegang adds.
Belightful Design highlights the desire to use materials that enhance our environments. Many studies are showing the health benefits of the nature for people, and Belightful Design aims to bring nature closer. The world's butterfly population keeps decreasing due to narrowed habitat and challenging environmental conditions, like urbanization and air pollution. "In Europe alone, the butterfly population has gone down by 50% during our lifetime. With Belightful we want to support biodiversity and enable a fun way of supporting butterflies" says Taina Tallala, Head of Sales and Marketing.
Recently Belightful Butterfly Feeder was awarded by Formex (Stockholm, Sweden) for Best Sustainable Business Idea. Formex is the largest yearly interior design event in the Nordics. Company will also represent Finland in International finale of Creative Business Cup.
The female founder duo has ambitious goals to conquer international markets with their delightful design. The feeders are on pre-order at IndieGoGo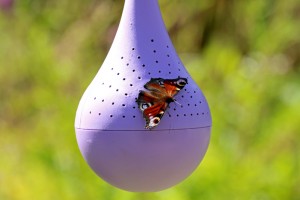 Belightful Design is showcasing next week in UK's biggest garden and outdoor living tradeshow, Glee (Birmingham, UK) at Stand 20A19.
For more information, please contact:
Outside US:
Taina Tallala
Head of Sales & Marketing, Co-Founder
taina(a)belightfuldesign.com
+358 40 169 6722
US only:
Annina Pierson
annina(a)belightfuldesign.com
Belightful Design company website