Design Finland 100 Exclusive Interview with Plantui
12.05.2017
Thank you for the featured interview by Soh WanWei and Design Finland 100. It's time to grow! We're making the world greener one Plantui at a time. We're looking forward to the results in Design Finland 100 Business Case competition arranged by Singapore Management University.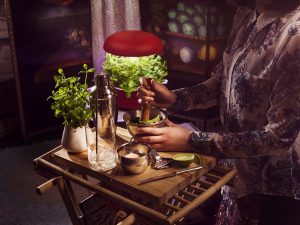 03 MAY

DF100 EXCLUSIVE INTERVIEW WITH PLANTUI
Fancy a garden right in your cozy little home?
"Wouldn't it be great", thought Janne Loiske in 2007, while holding a bunch of self-grown greens in his summer cottage garden, "to be able to do this back in the city too?" And when the elements of happiness are this simple, shouldn't they be available to everyone? Surely everyone deserves a garden?
These thoughts were the seeds for Plantui.
Today Design Finland 100 has the huge privilege of finding out more from the team at Plantui. Enjoy the interview!
DF100: Plantui's slogan is "Everyone deserves a garden". Can you share with us what inspired this slogan?
We really think everyone should be able to feel the joy of growing your own herbs and salads at home. In an urban environment and a busy lifestyle this needs to made easy, which Plantui Smart Garden does. The customer experience is of essence. Everyone deserves a garden 🙂

DF100: Can you share with us one Plantui smart garden most suitable for the Southeast Asian climate?
We have tested Plantui in different conditions, including the climate in Japan and the hot and humid climate in Singapore.
The Mustard Wasabina has been our top seller and grows perfectly in the Southeast Asian climate. The plant has a slight wasabi kick so its uniqueness only helps further its popularity. We have a local restaurant (The Summerhouse) with 5 Plantui units currently experimenting and incorporating it into their dishes.
DF100: What is the one thing about Plantui you wish more people know?
How healthy the plants are – i.e. we have a special growth method, and the end result is healthy and tasty plants with more vitamins and beta-carotene than in the plants you buy in the local supermarket.
DF100: What is the top misconception about Plantui that most people might have?
Plantui does not make the process faster, plants still take time to grow from seeds to harvesting. Depending on the plant, anything from 3-5 weeks for fast growers to 10-12 weeks for the edible flowers.
DF100: What differentiates Plantui from an actual "real" garden? Or are there no differences?
We base our growth method on the best light spectres in each phase from germination to growth and harvesting. We use no soil. It's a hydroponic garden and the lights are 'better than sun'.
DF100: Are there limits to the type of plants we can grow with Plantui's home gardens
We are testing new plants all the time, chili and tomato from local Singaporean seeds work well. Right now we're testing strawberry and lavender.
We can pretty much grow anything other than trees and roots. The beauty of Plantui is we can grow plants indoors, so we can even grow temperate climate plants in offices/homes with air conditioning.
DF100: What is Plantui's one wish for Finland's 100 years of independence?
Combine the best Finnish Design with advanced technology and growth know-how – for everyone to enjoy at home (or at your office, health club or day spa.)